Listening to the customer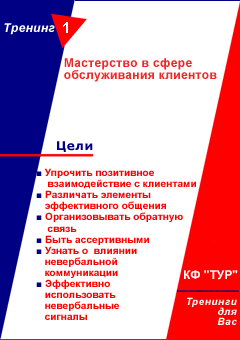 The two-day seminar for the marketing managers, customer service employees, field service people and so on
Why this training is important?
Consumers have so many choices because competition that companies are spending resources on providing quality service in order to create customer loyalty. Simultaneously, customers have become very educated and companies must train their employees to represent their interest to provide quality service, and to efficiently resolve customer's concerns in order to gain customer loyalty. Customer service is indeed a grooving industry that can never be replaced by technology. People will always be needed to address customers' concerns, listen to their opinions and suggestions, and quickly solve their problems.
After completing this training, you will be able to:
Describe the four steps in the listening process.
Actively gather and provide information in customer contact situations.
Recognize internal and external obstacles to effective listening.
Develop strategies to improve your listening ability.
Create relationships with customers through effective listening.
Who should listen this course:
The present training is designed for the customer service employees, field service people and so on.
Schedule of the training:
Introduction, trainer, materials of the course, participants:
9:00
Topic I :
Why is listening so important?

What is listening?
Questions for the listener.
Characteristics of a good listener.
Characteristics of effective and ineffective listeners.
Causes of listening breakdown.

Personal obstacles.
External obstacles.
An additional obstacles.
Indicators of poor listening.

9: 30
Coffee break:
11:00
Topic II :
Strategies for improved listening

Stop talking.
Prepare yourself.
Listen actively.
Show a willingness to listen
Show empathy
Send positive nonverbal cues.
Ask questions.

11:20
Lunch:
13:00
Topic III :
Information-gathering techniques

Use questions to sort out facts from fiction.
Open-ended questions. Closed-ended questions.
Additional question guidelines.

Avoid criticism.
Ask only positive phrased questions.
Ask direct questions.
Ask customers how you can better serve.

14:00
Coffee break:
15:30
Topic IV:

What are some pitfalls service providers should remember to avoid when listening to the customer?
Developing team listening skills
Handling an irate customer

16:00
Completion of the day. Summing up
17:30
During the training distributing materials will be granted (questionnaire, booklets, practical recommendations), the role games, tests will be conducted, audio records will be listened, exercises will be performed.