IT-technology, software, programming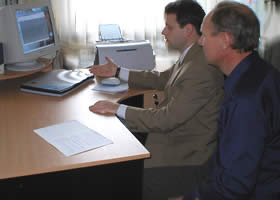 On the "Teplodar" firm Oleksiy Malovanyi is explaining to personal advantages of IT technology.
We shall help you to avoid or reduce negative influence of rapidly changed technology on your business, you and your personnel
IT-technology
The specialists of the consulting firm "Technologies of Sustainable Development" successfully operate in the following directions:
Development of the programs (soft ware) on the basis of the programming languages: Object Pascal (Delphi), Fox Pro, Turbo Pascal.
Management by operating systems DOS, WINDOWS, and UNIX (BSDI), NOVELL Net Ware (network).
Web-design.
Development of the accounting programs.
Formation of the databases on the basis SQL.
Development and tracking of the programs "for each day".
Support of the equipment (hard wear):
Choice of the optimal configuration of the hardware for the personal computer (PC) in order to successfully execute tasks at minimum financial costs.
Choice of optimal software.
The installation of operating systems (Windows, Linux).
"Thin" setting of the PC, optimization it's running.
The installation of the office applications.
Connection to the Internet, setting it.
Setting of a local network.
Search and installation of device drivers for different operating systems.
Consultation in the process of choice of the programs, installation it for:
operation with a graphics;
operation with a video and sound;
record of a CD - R/RW disks;
scanning of the graphic and text information;
recognition of the texts.
A record on a CD - R/RW disks:
films;
music;
the software;
audio disks (for musical centers);
a copy of disks.
Operation on the scanner:
scanning of the images;
scanning and recognition of the texts.
Printing of the documents (b/w and color).
Making a digital photo, video filming by the digital cameras.
Consultation and optimal choice of the programs (protection and reliability!!!) for:
of anti-virus protection;
of stand-by copying of the relevant data (files) of the user;
protection against unauthorized access;
Maintenance of reliable continuous protection a data Recovery lost owing to:
of power fails;
of operating of viruses;
of error operating of the user;
of ill conditioned activity of the software.
The analysis of availability of the conflicting and non compatibility of the software of the different entrepreneurs.
Finding - out and elimination of the causes of starvation of computers.
Developing of the guidelines on maintenance of reliable trouble-free work of computers and computer network.
Development of the instructions for the users with the purposes of maintenance of reliability of running of a computer network and reliable safety of backup copies of the software and user's data.
The service on any above listed points implements on the contractual basis. the assembling of equipment, hooking up, setting and installation of the software «from zero point» will safe you from problems with computer equipment and necessity to solve it oneself.